The first MakerCon was held on May 13/14 2014 at the Oracle Conference Center. Here's Dale Dougherty from Make opening the conference. I attended many fascinating presentations about Making, focusing on Tools, IoT, and business.
I met many new and interesting people at the Innovation Showcase with all the cool projects. I also visited Josh and Tarun from Light Up again!
Here's the guys from EepyBird showing a demo of their new paper airplane machine, Experiment 10.
I have hacked my own project again from MF SLO, changing some of the components, and adding NFC. I was happy to meet Pamungkas Sumasta setting up at the Atmel booth, the winner of their AVR Hero contest, and thankful when he and Bob Martin from Atmel helped me figure out some final coding for the bots. A big thank you to Sander Arts and Atmel for hosting me in their booth!!
Getting the course ready...
a little bit of soldering and 3D printing, and I'm ready for another Maker Faire!
Here's a fun maker that I finally got to meet in person - Miguel Valenzuela from Pancake Bot. He has a CNC machine that makes real pancakes based on designs that you make. He was a finalist in the Pitch Your Prototype competition.
Hey, Massimo!
Here's Erik Thorstensson from Sweden, who invented these modular straw connectors called Strawbees. He was Maker of the Year at Maker Faire Oslo. Here, he created a straw structure and attached them to a small quadcopter. It flew really well, and when it crashed, all you needed to do was replace the straws.
I also met Bertier Luyt and Omar Pierre-Soubra from Maker Faire Paris!
Maker Faire time! Sylvia Martinez and Gary Stager stopped by and gave me their great book, "Invent to Learn: Making, Tinkering, and Engineering in the Classroom."
Many robot enthusiasts came to play at the Qtechknow Olympics!
Jeff Branson, Derek Runberg, Pete Dokter and Nick Poole from SparkFun came to check out my project. Thanks, SparkFun for the parts!
Here's my first learn-to-solder product in the Maker Shed - the Color Visualizer Kit!
Meet Omkar, a 7 year old maker that has a website and business, and loves Arduino - just like me!
Jaymes Dec from the Marymount School in NYC came to play!
Sir-Mix-Alot visited the Atmel booth!
And, my cousin Alyssa helped in the booth when she wasn't modeling LED glasses.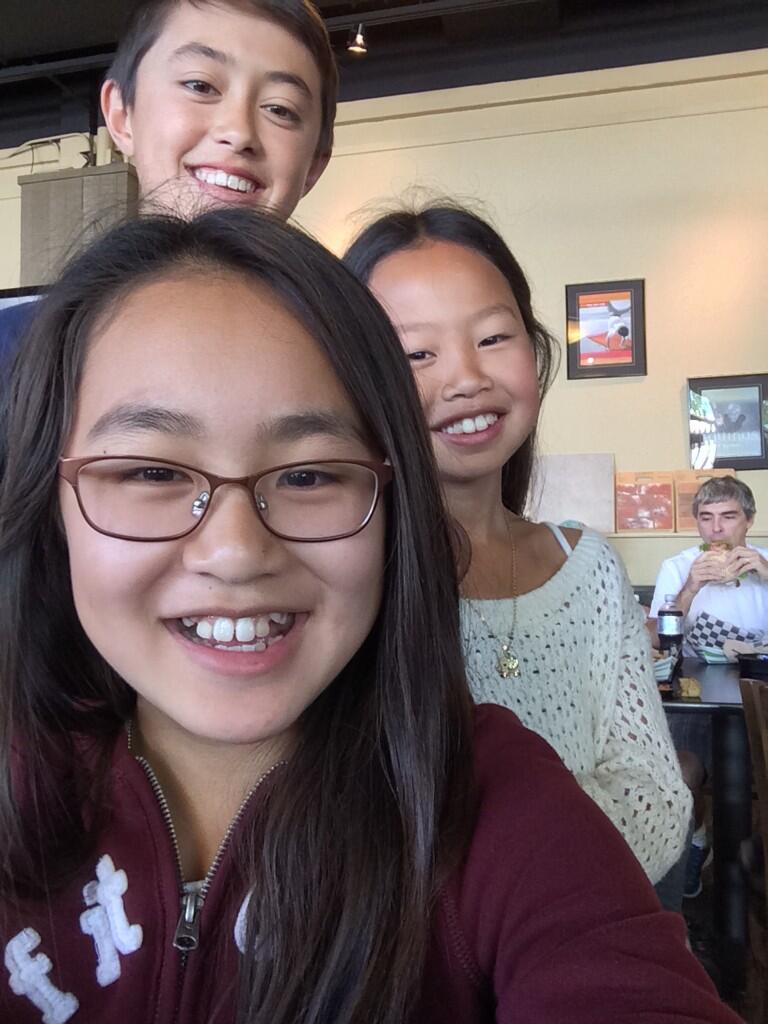 Do you see someone eating a sandwich in my cousins' selfie? It's Larry Page, CEO of Google!
Rob Faludi and Matt from Digi came by to check it out - thanks, Rob for your help!!!
Sherry Huss and Louise came and gave me an Editor's Choice Award for the booth!
and another Editor's Choice Award from Riley from Make!!!
A big shout out to my friend, Joey!! He was hanging out at Intel where he works as their youngest intern ever. Can't believe I didn't get one picture of him, but he was zooming by too fast on his Make skateboard!
Maker Faire Bay Area 2014 comes to a close - what a great week!! Thank you, Atmel and SparkFun!