This is a short series all about my adventures with 3D printers! Part 2 and Part 3 about the adventures will be posted soon!
Part 1: Bukobot v2 Review
Earlier this summer, I got the new Bukobot v2 3D Printer by Deezmaker; and it is awesome! It is packed with amazing features, and is one of the best open source printers that you can buy on the market today. It comes at an affordable price tag - only $1399 for single extruder (8" x 8" x 8" print volume), and only $1499 for dual extruder (also 8" x 8" x 8" print volume). Deezmaker has great customer support as well; they even have their own forum for you to post questions. That helped me out greatly. The Bukobot v2 has a very sturdy base and platform, it is made from aluminum beams. It also can print in many different materials: ABS, PLA, Nylon, Polycarbonate, PVA, HIPS, and many other common filaments.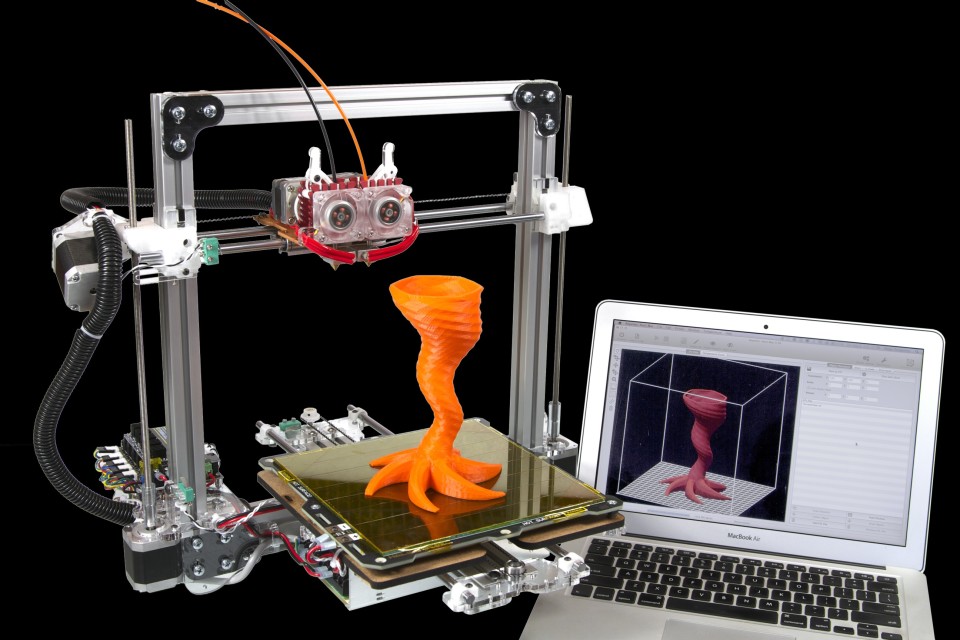 3D Printer Checklist:
Z Axis Resolution: <50 Microns
Heated Platform: Yes
Base: Aluminum and Lasercut Acrylic
Filament Options: ABS, PLA, HIPS, PVA, Polycarbonate, and more
SD Card Ready: Yes
Nozzle: "Spitfire" Extruder
Power Supply: 12V at 20A
Software: Compatible with many free open source firmwares and host apps (I used Repetier)
Filament Diameter: 3mm (1.75mm optional)
Price: Mid Range ($1399 for Single Extruder, $1499 for Dual Extruder)
Build Volume: 8" x 8" x 8" (200mm x 200mm x 200mm)
Assembled: No, but doesn't require soldering.
Extra Features:
Tastu v2 extruder drive gear, great for switching colors of filament even during a print!
Amazing customer support!
One of the best open source 3D Printers on the market
Spectacular Performance
Expandable
Great quality kit
Heated bed for ABS
Wrap - up:
The Deezmaker Bukobot v2 Vanilla and Duo machines are some of the best open source 3D printers on the market. These have very high quality parts, and some amazing extra features. The Bukobot v2 Vanilla is the best printer for your first 3D printer, and the Duo is a great intermediate printer.
*not endorsed or sponsored by Deezmaker for this article